So last night, I posted the speech 'president' Texas Walker Bush gave regarding the economic bailout package.
I must admit, I was more than furious and depressed. I watched the speech twice. Once on CNN and once on FOX. Don't ask why I decided to do that to myself, it was just what had to happen. I noticed that on the CNN report the pitch of his voice was noticeably higher than on FOX…weird.
Moving on. Tomorrow night is the first presidential debate. I've been invited by Code Brown to a little gathering of folks to watch what happens. Should be good. I think Saturday will consist of a 9pm-6am rave in a secret location in PDX…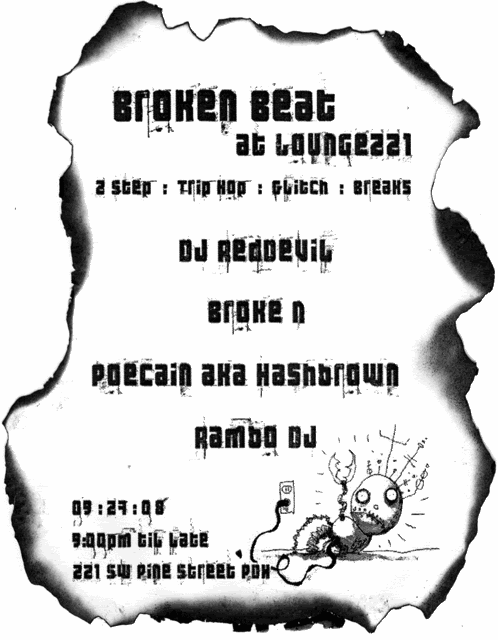 Should be a fun time I assume…I don't even think this qualifies, but I just need some binaural decompression.
If you want to join me, hit me up @sirgabe on twitter or email me through here.
You might be asking yourself, "Gabe, where's Lisa?" She went down to AZ for the weekend for her best friend's birthday extravaganza. So I am holding down the glider fort for now. She comes back on Sunday. I think if I'm not completely drained, I will install her new keyboard and mouse combo.
May post more tonight I think I am going to go trespass in some buildings or cause some mischief of some sort. There really isn't anything I enjoy more; besides San Pelligrino perhaps.
Later taters.